Finding a Wedding Dress When You're Not a Size 6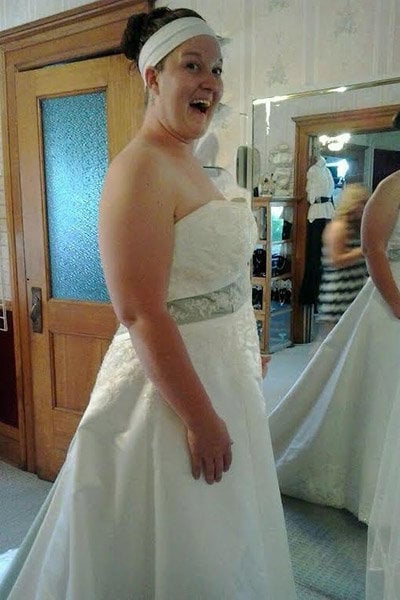 My husband Mike and I were married on June 27, 2014, in Aberdeen, SD. It was a wonderful, awesome day — we had a blast celebrating with our families and friends at an amazing venue. Our big day went off without a hitch, hiccup or snafu in sight, but it was only after I conquered my deep-rooted fear of dress shopping.
After I got engaged, I was thrilled at the prospect of finding my dream dress. For three months, I searched through wedding magazines and websites until I fell in love with a tea-length satin style that had a beautiful bow and purple crinolines to match my vintage theme. It was glorious! That is, until I tried on a similar dress that my friend had, and I quickly realized that this hemline on me just wasn't going to fly. I wanted to cry at the thought of having to choose a gown all over again.
I had heard disheartening tales of plus-size brides' shopping experiences. "If you aren't under a size 10, good luck." "My sister broke down bawling at one store because they had ZERO dresses that fit her." "The lady at the shop we went to told my cousin to drop 30 pounds when they did her first fitting." Whoa. Scary, right? I hoped those stories weren't true, but in the back of my mind, I was panicking. I wear a size 18 in regular clothes and I knew that bridal sizes ran even smaller — I was prepared for that. What I wasn't prepared for was how insecure I was going to feel.
During this time, I was struggling with gallbladder issues and had surgery in late November. The side effects of adjustment were wreaking havoc on my body. My weight had been fluctuating wildly and exercising didn't help. I was constantly nauseous and weak for several months after the operation. To make matters worse, I was also being pressured by some of my family members to shape up and slim down.
All of my medical problems were also cutting into time for dress shopping. If I was feeling well enough to make the six-hour trip out of town to go shopping, the weather was horrendous. If I waited too long, calving season would start (I work on a farm) and extra time would be a precious commodity. January came and this was it: I couldn't put it off any longer.
I took my sister and a friend with me for support. Much to my relief, I was pleased to find that our shop in town had a large selection of plus-size dresses and the sales consultant we met with that day was very friendly. We grabbed a size 18 to get a baseline and went up from there. I had no clue what kind of silhouette I wanted so I tried four different styles: a ball gown, a mermaid, a fit-and-flare, and a Grecian style.
The ball gown made me look like a puffball and I had to be rescued from the yards of tulle, much to the amusement of my sister. I was too embarrassed to even walk out of the fitting room. I couldn't get my backside into the mermaid and almost ripped it. The fit-and-flare was a disaster ("you look like you want to stab me for picking that one!") and the Grecian style wouldn't fit in important areas (read: busom). We moved up a few sizes and tried more styles. Nothing looked right and I was crushed. How could I only be four dresses in and feel this bad? What if I find a dress and don't even fit into it come June?
During this time, two of the other shop associates walked in, and in a moment of despair, I told them I was afraid and sad that I would never find "The One" for me. Since I wasn't a small woman, I was just going to have to stuff myself into an ugly, uncomfortable, unfitted, un-Talese dress. They assured me that I would find a beautiful dress to wear, but I didn't believe it. Boy, did those gals prove me wrong, and much to my delight, they never asked once if I was planning on "slimming down" or "tightening up my figure." Cue a sigh of relief. Their kindness was so unexpected and I can't describe how wonderful those ladies made me feel.
After much reassurance, I struggled into one more dress before my sister came in with another she had pulled. She had been put off by the not-so-pretty green color around the waist but the associate lit up when she brought it in. "Oh, this one has color, let me show you!" she said, whipping out a swatch book with a rainbow of different shades. Then to my shock, she pulled the gown out of the bag to reveal a jaw-dropping, colorful six-foot train. The green was hideous but there was a purple…a luscious, rich purple I had been eyeballing on the swatches. "It comes in that," she confirmed.
I leapt into that dress and stared at myself in the mirror while waiting for her to come button me up. The sample was actually a little too big so she cinched it up and showed me how it would fit after being properly sized. Oh my goodness, I loved it. I couldn't believe my eyes — no way. I looked amazing! I walked out to the platform to show my companions and they teared up. Yes, we all decided. This. Was. The. One. Two weeks later, I put the deposit down and my dress was on its way.
After I bought my dress, I finally realized that it wasn't OK to beat myself up about my weight. I was content with my body, so I refused to cave into family members' comments about how I had to slim down for the wedding. In mid-March, my weight finally stabilized and I decided to order my dress with a corset after finding out it wasn't too late to add one. Done deal.
Looking back on it all, I realized that my mistake was getting so dead-set on one dress that when it didn't work out, I got upset because I was so certain there were no other options for me. I hit "The One" on dress five but don't be discouraged if that isn't the case for you! I would have tried on 200 dresses if it would have meant finding this one. It is frustrating, especially for us brides who don't fit the over-abundant sample size 8. But our world is becoming more diverse and curvaceous and designers are taking note. Browse beautiful plus-size wedding gowns ►
Don't be afraid of trying something that is outside of your comfort zone. That one dress you leave on the rack because "it looks ugly on the hanger" could be the dream style you didn't realize you wanted all along. Through it all, recognize that if you are happy and love the way that you look, it doesn't matter what anyone else says — you are beautiful and don't have to change to fit the standard bride mold.
Another piece of advice I have is to splurge on proper foundation garments. I opted for a full-coverage panty that was comfortable but you can also go for a shaper if you prefer. Definitely go to a lingerie store and get fitted properly for a bra — there are few things more uncomfortable than an ill-fitting one! You will not regret buying quality pieces, especially when you will be wearing your (potentially) heavy dress all day. Check out more shopping tips for full-figured brides ►
When all was said and done, I felt like a million bucks walking down the aisle to marry the man I love. No one could ruin my fabulous day.
We want to hear from all the other plus-size brides: Tell us what your shopping experience was like!
P.S. Have an interesting wedding planning story to share? Apply to become a guest blogger on BridalGuide.com ►
— Talese (Aucoin) Nelson
16
Jul
Comments Off

on Finding a Wedding Dress When You're Not a Size 6
Comments Closed